02 Jan

Children's Birthday Parties in Knoxville, TN

Attention Parents In The Knoxville, TN area:

Planning a child's birthday party? Well then you know how difficult it can be.

Do you go simple and have the party at home? But then you'd have to clean your house after AND before the party. How many people can fit into your space? What food and beverages will you serve?

Or should you find a room to rent somewhere? Room rentals are expensive. Catering is too. Will they allow you to decorate?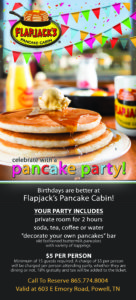 So much stress! Too much stress. Make it easy this year and let Flapjack's Pancake Cabin on Emory Road in Powell host your party. We have a beautiful private room that is the perfect backdrop to all of your Pinterest-inspired decorating ideas. And the best part…
It is affordable! At $5 per person, we provide the private room, beverages, pancakes, and clean up. Wow! Did you read that right? $5 per person! You are welcome to bring in your own decorations and cake. Feel free to bring in a photographer or videographer.
We know that planning your child's birthday party can be stressful and unenjoyable. Allow us to help make your kiddo's special day even more special. Your kid's birthday party is their special day, but it is a celebration for you too! So take it easy and enjoy the occasion.
Flapjack's Pancake Cabin in Knoxville is conveniently located on East Emory Road in the Powell community. Take I-75 to exit 112. Click here for directions. To schedule a birthday party, please call 865-774-8004. We recommend calling months in advance. Limited availability; we can only accommodate one party per day.
Our private room is also available for meetings and other special events.