Events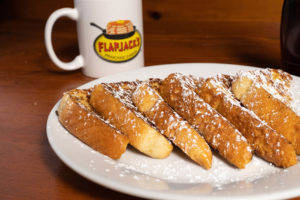 Groups & Tours

Flapjack's can accommodate large groups. As a matter of fact, our restaurants were designed for it. From family reunions to tour buses and parties, our modular country tables and wide-open cabin floorplans allow us to easily adjust to any group size.
Our affordable menu of classic country breakfasts will leave a smile on your face and wallet. And with warm, hospitable service and a fireside cabin theme … well heck, it wouldn't be a trip to the Smokies without stopping in for breakfast at a Flapjack's Pancake Cabin®.
What's more? Many of our locations can accommodate full-size tour buses, making the jobs of tour guides, drivers and vacation planners a little easier. Simply drive up, park and unload. We can guarantee you and yours will leave happy and fed. If you want to CALL 865-774-8004 and give us a heads up on your arrival plans we'll make sure to reserve your seat.