21 Jan

Winter in the Smokies

We all know what happens during Summer in the Smoky Mountains…roller coasters, go carts, hiking, ziplining… enjoying the great outdoors! And of course the Smokies are blooming with wildflowers in the Spring, and in the Fall visitors flock to see the changing colors. But what about Winter in Sevierville, Pigeon Forge and Gatlinburg?

Winter is a great time to visit! Why? Lodging rates are lower, crowds are smaller, and there are a lot of unique activities! Here are some of our favorite…

Snow Tubing at Ober Gatlinburg: Skiing and snowboarding are fun too, but snow tubing is fun for all ages. And the best part… grabbing a cup of hot chocolate when you're done! http://obergatlinburg.com/tubing-2/

Saddle Up in Pigeon Forge: Western dance classes, cooking demonstrations, concerts and more! http://www.mypigeonforge.com/events/saddle-up/

Wine Tasting in Sevierville at Mountain Valley Winery: Tour the winery, taste the wines, and then purchase your favorites. Check out all of the wineries along the Rocky Top Wine Trail! http://mountainvalleywinery.com/

But our most favorite Winter activity? Seeing the snow-capped mountains and watching the snowflakes fall. Winter in the Smoky Mountains is a gorgeous and magical time. Start planning your trip now and of course, come and see us at Flapjack's Pancake Cabin! We've got hot coffee and hot cakes. We'll have the fireplace roaring and the syrup pouring!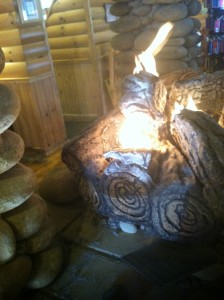 For more information on visiting during Winter, please visit:
Gatlinburg: http://www.gatlinburg.com/things-to-do/winter-magic/
Pigeon Forge: http://www.mypigeonforge.com/events/winterfest/
Sevierville: http://visitsevierville.com/